Below are some photos and profiles of a few of the hundreds of offshore (not provisioned) dolphins that you may encounter in Shark Bay!
Agar
Agar is Algae's last calf. He was born in 1997 and his mother disappeared around 2004, soon after Agar was weaned. Agar took awhile to develop strong bonds with other males, but eventually joined the "Hooligans" alliance. He spends most of his time in deep open water in Whale Bight.
---
Ajax
Ajax is an old male (born in the late 70s or early 80s) and is a member of the male alliance called the Wow Crowd. Its current members include Wow, Krill, Myrtle, Pik, and Veetop. Recently Ajax has been sighted on his own quite often. He is pretty old and sometimes the old males focus on getting enough to eat rather than chasing females all the time. He's had a successful career though, fathering at least three known offspring.
---
Burda
Burda is Surprise's second born son and was born in 2003. He has a large family including a big sister, Shock, an older brother Sparky, and a younger brother Shiver and a little sister Sonic. Burda has several young male friends he spends a lot of time with, including India, Lips, Starlet, and even his brother Shiver. His mother, Surprise, takes fish handouts at Monkey Mia, but males are not encouraged to hang around the beach, so Burda was never fed by humans. There are several reasons for this. First, males are more aggressive than females so male dolphins can sometimes hurt people. Also, mothers and daughters often associate after weaning, but sons do not. Daughters also tend to adopt the hunting traditions of their mothers and the provisioning at Monkey Mia is one such tradition. Burda does visit the beach on occasion however!
---
Bytfluke
Bytfluke was born in the early 1970s and is currently one of our oldest living dolphins. Bytfluke was one of the first spongers discovered in the 1980s and has been sponging now for at least 27 years! Her older son, Bingo never sponged but once stole his mother's sponge. Her last son, Google, has not been seen sponging yet, but he was born in 2008 and may start sponging yet. Bytfluke was named for a bit taken out of her tail fluke. Her dorsal fin is quite distinctive due to an encounter with a tiger shark in 1998.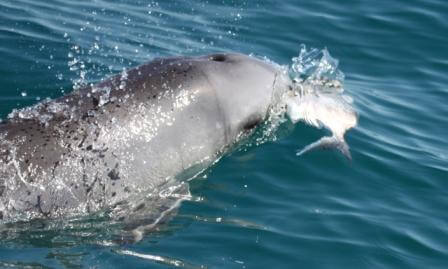 ---
Clownfish
Clownfish was born in 1992, but she didn't have her first calf until 2009. She was well known to researchers as a juvenile in 1990s because she liked to bowride from the boats. Her distinctive dorsal fin has allowed researchers to track her easily over the years. She has had three calves, Anenome, Dory, and Leafy Seadragon, who are all doing well.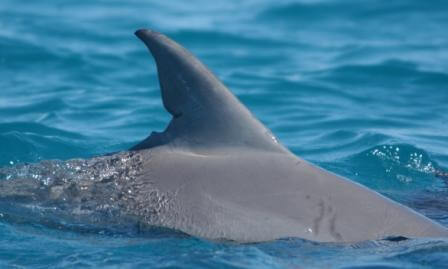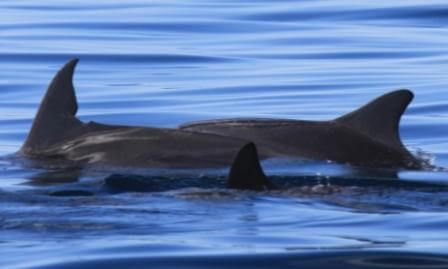 ---
Cyrano
Cyrano was named for the famous fictional character Cyrano de Bergerac because her dorsal fin looks like a very large nose. Researchers don't know exactly when Cyrano was born, but estimate that it was around 1989. Her first calf, Pinocchio, didn't survive, but her second calf Cleopatra did make it to weaning. Cyrano spends most of her time in deep water in Whale Bight, not far from the researcher's base.
---
Dodger
Dodger was born in 1999 to Demi and is the grand-daughter of Half-fluke, the first sponging dolphin that researchers discovered. Demi began sponging in 1989 at 2 years of age, and Dodger also began sponging when she was 2 years old. Thus, Dodger is a 3rd generation sponger. She has a twisted up dorsal fin that is easily recognizable. Her younger sister, Ashton, is also a sponger and the sisters spend quite a bit of time together when they aren't busy sponging. Like all spongers, Dodger spends most of her time in deep channels where she can find her sponge tools and the fish she prefers. She is currently nursing a son named Deckie.
---
Kite
Kite is one of the sponger females (uses marine sponges as a hunting tool) and was born to Kestrel in 1989. Kestrel was also a sponger and Kite's offspring, Osprey, is a sponger as well. Osprey was weaned in 2011. Kite spends most of her time sponging, but when she isn't, she spends time with her sponger friends, especially Demi, Dodger, Gumby and Bytfluke. She is currently nursing a daughter named Albatross, and also has an older son name Otus.
---
Mouse
Mouse is Mini's last-born daughter. She was born in 1991 and nursed for 7 years! Mouse had her first calf, Mighty, in 2003, only 5 years after she stopped nursing. Mighty, a male calf, is doing very well and has several young male buddies. Like her mother, Mouse likes to hunt in deep water. Mouse currently has a nursing calf named Mitzi and an older son, Magic.
---
Pub
Pub is part of the large Skrub family, with an older brother Grub and two younger sisters Rubadub and Hubba. Pub was born in 1995 and is a sponger like his mother and everyone else in his family. Pub is not in a stable alliance yet. He spends a lot of his time with other spongers, including Dali, another male sponger, but also some young males that don't sponge, such as Ceeya, Granite, and Alamo.
---
Yobo
Not much is known about Yobo since he was first sighted as an adult in 2002. He was probably born in the 1980s. He has shifted his alliance partners over the years and is currently considered to be a member of the Grand Poobahs. His most common associates are Trion, Skeet and Sprocket, but lately he has been on his own a lot.
---